A Career In Road Transport
---
Almost anything you can think of that sustains you in your daily life has been moved by road transport at some stage. While many people automatically think of truck drivers when they think of road transport, there are dozens of different jobs in the industry. There's something for most people, whether you're a school leaver, looking for a career change, getting back into work after a break, or have been in a road transport job for years and just want a change of scenery.
Industry Snapshot
---
The Big Picture
The Road Transport Industry, and its allied industry sectors such as warehousing and logistics, are all part of the much wider Australian Total Transport Industry, that includes rail, maritime and air transport and associated services as well. The Total Transport Industry includes people employed in business that perform transport services for others for a fee (for-hire). It also includes businesses that have in-house transport servicing their own needs, such as a retailer carting its goods from its distribution centre to its stores. Together, the Total Transport Industry is the fourth largest industry in Australia, employing over one million people in 2015 - 16.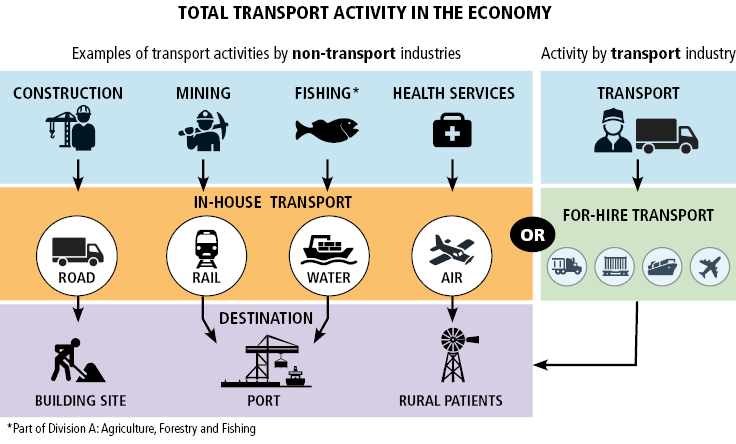 Source: ABS 5270.0 Australian Transport Economic Account: An Experimental Satellite Account 1010-11 t0 2015-16
This means skills you gain in the transport industry are portable across not only a large industry but many other industries right around Australia that use these skills as well.
Road Transport
The Road Transport Industry employs some 303 100 people with the Warehousing and Storage Services sectors having another 68 400 people employed in them. In 2015 – 16 the Road Transport Industry generated $137.2 billion in economic output. In-house road transport activity accounted for 60.6% of this with 39.4% being produced by for -hire activity. The main industries with in-house road transport jobs are agriculture, forestry, fishing, and construction.
Road transport is also set to grow over the coming years with the amount of freight expected to be carried projected to dramatically rise in the next decade.
So, if you're looking for a Road Transport Industry job, your opportunity might be in another industry that needs your skills. On the other hand, road transport skills you've gained through working in-house can take you to places in road transport you might not have imagined.
For some years the Road Transport Industry has struggled with skills shortages, especially drivers. Part of the reason for this is the industry has suffered from an image problem. However, times have changed and there is now an emphasis on high safety standards, better training, and professional behaviour. Heavy vehicles are strictly regulated requiring an understanding of complex and detailed laws. At the same time the technology used across all parts of the industry is increasing in volume and complexity.
This means the demand is very high for people with the ability to work and apply themselves in a highly demanding industry that millions of Australians rely on daily.
Career Paths
There are any number of career paths that are open. Explore the main ones:
To find the training you will need and the people that provide it check out the Road Transport Careers training section.
More Information
To help understand the Road Transport Industry and the career opportunities open to you there's a wealth of information available:
About the state of the transport industry job market
About training requirements
About women working in the Road Transport Industry (United States)
---